Date/Time
Date(s) - Sun, April 29 - Mon, April 30
10:00 pm - 4:00 am
Location
EXIT
Categories No Categories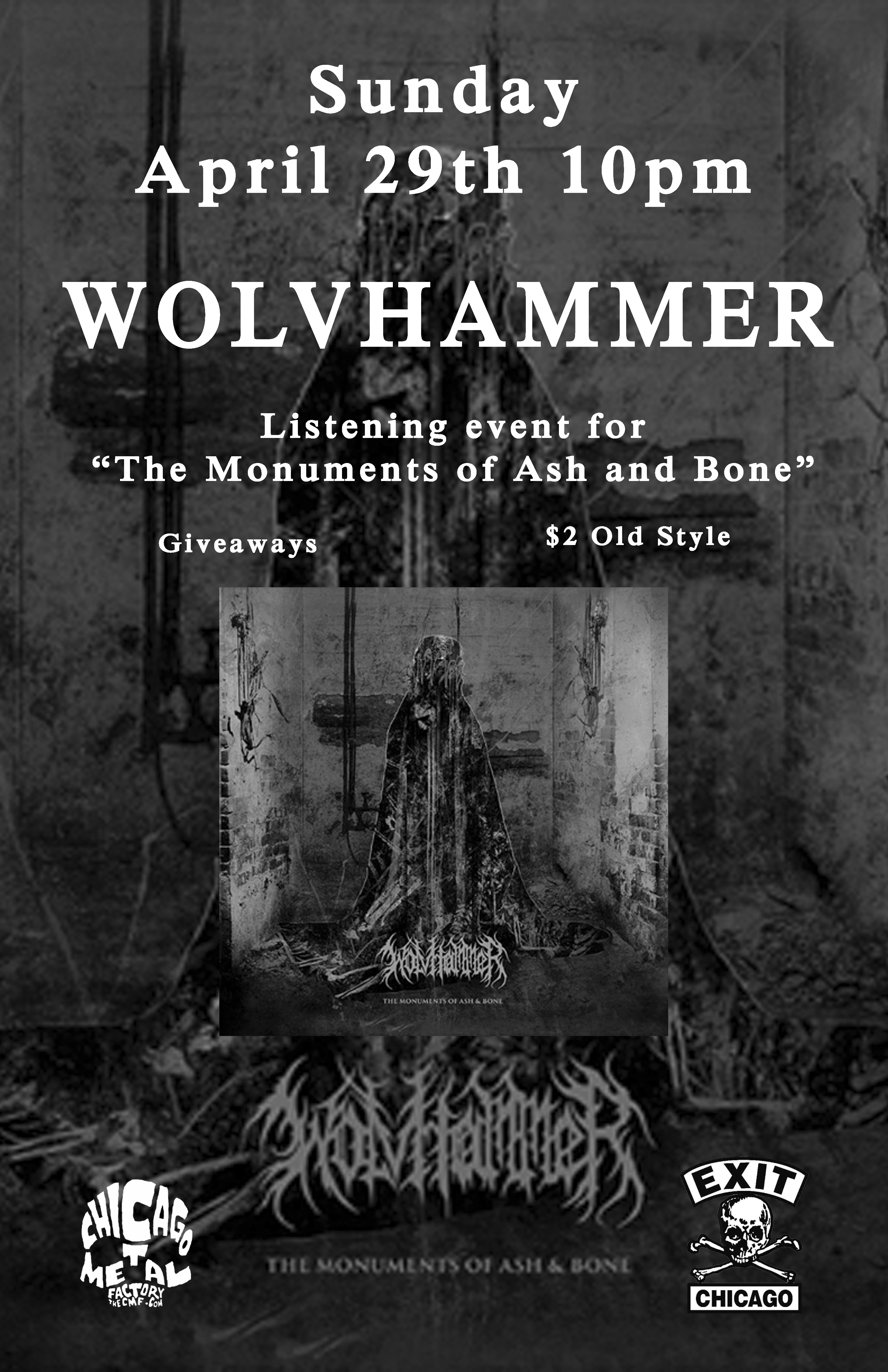 win pairs of tickets TO: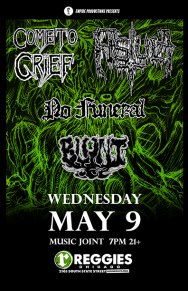 COME TO GRIEF (ex Grief).
FISTULA, NO FUNERAL, BLUNT


Wednesday 5/9 @ Reggies (21+)

OBITUARY, PALLBEARER
Sunday 5/13 @ Metro (18+)

PRIMUS, MASTODON (all ages)
Wednesday 6/6 @ Huntington Bank Pavilion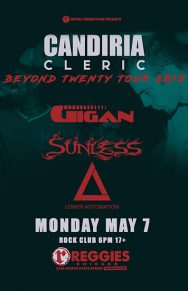 CANDIRIA, GIGAN,
CLERIC, SUNLESS,
LOWER AUTOMATION
Monday 5/7 @ Reggies (21+)

WOLVHAMMER listening event for "The Monuments Of Ash & Bone" @ Metal Sundays
The Monuments Of Ash & Bone was recorded and mixed by Jarrett Pritchard (Goatwhore, Exhumed) at his own New Constellation Studios in Orlando, Florida, and mastered by Ken Sorceron (Abigail Williams, The Faceless) – both of whom provide additional guitar tracks to the album – and completed with artwork by Brian Sheehan.
With the current rapid rise in quality USBM, WOLVHAMMER races to the forefront with their upcoming fourth album which sees them merging the black metal tendencies of Enslaved with the mid-tempo sludge of Celtic Frost. Far removed from the methodical riffing and trudging pace of their previous record, and eschewing any frills, The Monuments Of Ash & Bone delivers nearly forty-two minutes of savagery through seven new songs. The album kicks the tempo into high gear and goes straight for the throat on tracks such as "Eternal Rotting Misery" and "Law Of The Rope." No experimental bullshit, just the sound of rotten flesh and slow decay.
Although there has been a four-year break between full lengths, the musical core of WOLVHAMMER has remained active, with guitarist Jeff Wilson writing and recording various projects, as well as being one half of the atmospheric black metal band Abigail Williams, and vocalist Adam Clemans being tapped as the new front man for Skeletonwitch. Adding John Porada (Terminate) on guitar in 2016, the new line up was filled out with Garry Naples (Novembers Doom) and Andrew Gerrity (Doomsday) before hitting the studio in the summer of 2017
Blood Music will release The Monuments Of Ash & Bone on CD, LP, and digital formats on May 4th; find preorder options HERE.
http://www.facebook.com/Wolvhammer
https://wolvhammer.bandcamp.com
ALL NIGHT DRINK SPECIALS
$2 OLD STYLE DRAFTS
$6 OLD STYLE DRAFT & SHOT OF MALORT
$3 MILLER HIGH LIFE
FROM 9PM – 11PM
$4 ALL DRAFTS, WELL DRINKS & WELL SHOTS
Emma & Jerome behind the bar
Rodney hosts & spins
Chicago's longest running weekly metal night
REQUESTS TAKEN
DOORS AT 9PM
DJ AT 10PM
OPEN UNTIL 4AM
EXIT
1315 W. North Ave., Chicago
www.theCMF.com
METAL SUNDAY RULES
1. NO WARRANT
2. NO POISON
3. NO RE-RECORDING OF BONDED BY BLOOD
FLYER & PROMOTE YOUR UPCOMING METAL EVENTS
EVERY SUNDAY @ EXIT
DOES YOUR BAND HAVE A NEW RECORDING COMING OUT SOON
OR PERHAPS YOU HAVE SOMETHING TO CELEBRATE
LIKE A BIRTHDAY, DIVORCE ETC.?
E-MAIL INFO@THECMF.COM ABOUT THE
POSSIBILITY OF GUEST DJing @ METAL SUNDAYS