Date/Time
Date(s) - Sun, May 13
10:00 am
Location
EXIT
Categories No Categories
COME ON OUT TO EXIT SUNDAY, MAY 13TH early:
Metal Church Sunday live series
featuring DJ burr (j-burrito) and a live performance by
Black Bear Rodeo
and following the show is theCMF Metal Sundays featuring a listening event for
Skinless
– Savagery (
Relapse Records
)
w/ concert ticket, CD, LP & t-shirt giveaways
+
A Tribute to: Charles Michael "Chuck" Schuldiner (r.i.p.)
Born
: May 13, 1967
LISTENING EVENT FOR
SKINLESS – SAVAGERY
w/ GIVEAWAYS
HEAR & WIN THE NEW SKINLESS RELEASE
PLUS OTHER RAFFLE PRIZES
US Death Metal veterans SKINLESS return with their pulverizing sixth studio offering, aptly titled Savagery. Recorded by Tom Case at Doomsday Bunker Studio in New York and by Dave Otero (Primitive Man, Cattle Decapitation, Cephalic Carnage) at Flatline Audio in Colorado. Savagery embodies ten slabs of rotting, aural remains across 37 minutes of titanic slams, untouchable grooves, mauling riffs and blood-thirsty, bestial growls. Savagery sees SKINLESS at the top of their game, more than 25 years into an untouchable reign of terror. Features stunningly sick cover art by renowned tattoo artist Jesse Levitt.
party after OBITUARY

WIN PAIRS OF TICKETS to:
TRIVIUM, REPENTANCE
Wednesday, 5/23 @ The Forge

Aborted, Psycroptic, Ingested,
Disentomb, Arkaik,
Venom Prison, Vale of Pnath
Thursday, 5/31 @ The Forge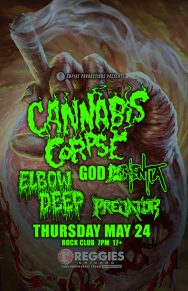 Cannabis Corpse / Elbow Deep / God Dementia / Predator at Reggies Rock Club Thursday, 5/24
INSOMNIUM
Friday, 5/25 @ The Forge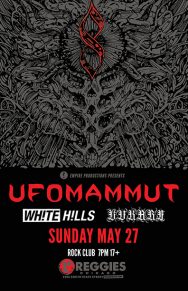 UFOMAMMUT,
WHITE HILLS & VUKARI
Sunday, 5/27 @ Reggies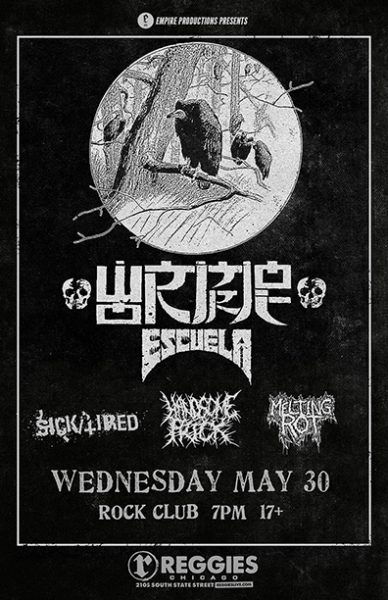 WORMROT, ESCUELA, SICK/TIRED,
HANDSOME PRICK & MELTING ROT
Wednesday, 5/30 @ Reggies
TRIVIUM, REPENTANCE
Wednesday, 5/23 @ The Forge
WIN A SKINLESS T-SHIRT & CD


WIN THE NEW SKINLESS ON LP
ALL NIGHT DRINK SPECIALS
$2 OLD STYLE DRAFTS
$6 OLD STYLE DRAFT & SHOT OF MALORT
$3 MILLER HIGH LIFE
FROM 9PM – 11PM
$4 ALL DRAFTS, WELL DRINKS & WELL SHOTS
Emma & Jerome behind the bar
Rodney hosts & spins
Chicago's longest running weekly metal night
REQUESTS TAKEN
DOORS AT 9PM
DJ AT 10PM
OPEN UNTIL 4AM
EXIT
1315 W. North Ave., Chicago
visit the Chicago Metal Factory at www.theCMF.com

METAL SUNDAY RULES
1. NO WARRANT
2. NO POISON
3. NO RE-RECORDING OF BONDED BY BLOOD
FLYER & PROMOTE YOUR UPCOMING METAL EVENTS
EVERY SUNDAY @ EXIT
DOES YOUR BAND HAVE A NEW RECORDING COMING OUT SOON
OR PERHAPS YOU HAVE SOMETHING TO CELEBRATE
LIKE A BIRTHDAY, DIVORCE ETC.?
E-MAIL INFO@THECMF.COM ABOUT THE
POSSIBILITY OF GUEST DJing @ METAL SUNDAYS