Date/Time
Date(s) - Wed, August 14
8:00 pm
Location
Reggies
Categories No Categories
MOVED TO REGGIES FROM BRAUERHOUSE
Hank Von Hell w/ Spiders
Moved from Brauer House (previously purchased tickets will not be honored)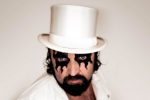 HANK VON HELL
It's time.
Eight years have passed since the world of Punk Rock lost one of their greatest. The legendary frontman of Turbonegro, Hank Von Hell, left the scene and stated that he would never come back again. Fans all over the world have craved a return, begged him to reconsider. But Hank have firmly said "No". Until now.
Like the rise of a Phoenix, Hank Von Hell rises from the ashes and is once again re-born as Hank Von Hell.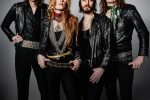 SPIDERS
SPIDERS is a Gothenburg based band featuring Ann-Sofie Hoyles, John Hoyles, Olle Griphammar and Ricard Harryson.
SPIDERS was formed in Gothenburg in February 2010. A few months later the band appeared at one of Sweden's most successful music festivals, Way Out West. It was around this time SPIDERS for the first time as a band stepped into the studio with producer Don Ahlsterberg (The Soundtrack of Our Lives, International Noise Conspiracy) and started recording.
By the end of January 2011 SPIDERS released their debut record, a 10" vinyl EP on Crusher Records containing four tracks. The self-titled release was very well received and noticed in Record Collector as well airplayed on Sweden's largest radio channel P3. In March 2011 those four previously released tracks came to be released in the USA as two separate 7" singles, one on Kemado Records the other on Valley King Records, the latter with an artwork made by well-known artist Alan Forbes.